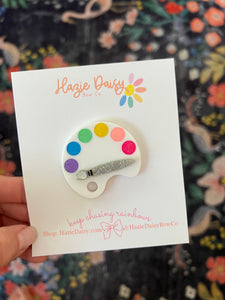 This OOAK Art Palette Clip/Pin has no flaws. It was just the first prototype of the design, but I ended up taking it another direction with the heart shaped paints.

 Our acrylic clips/pins are custom designed, and made by Hazie Daisy Bow Co. Many of our custom clips feature hand painted details, and some include resin top coats. This multi step production process is all done in Virginia. I strive to produce high quality products, and hope you love your lovingly handcrafted pieces! 

Each Clip is sold individually. 
**Please note clips are made up of small parts. Do not give to infants, and always supervise when in use around small children.  
Details
Size: About 2.25" Wide by 1.25" Tall
Designed by Hazie Daisy Bow Co.
Acrylic  
🇺🇸 Handmade in Virginia