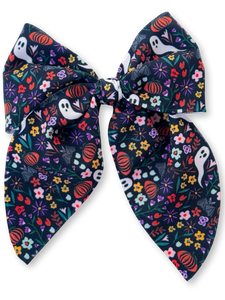 This bow is made of a custom printed polyester.
Size
About 5" Wide by 6.5" Tall
Finishes
Nylon Headbands are not available for this bow style.
The Alligator Clip is a toothed clip that grips well in all hair types, and all ages.  
The Flat Clip with a Grip is a flat style clip with no teeth.  Instead of teeth, I place a small grip between the clip and the bow for added grip.  I recommend this for the younger babies/toddlers, who might pull their bow out.  It does not seem to grip as tightly as an alligator clip, and therefore would be gentler if pulled out.  
**Clips can be worn on whichever side you prefer, for either the right or left side. However, I place clips to be worn on her right side by default.  Because I do not glue them in, if you wish to wear the bow on the left side, simply slide it out and slide it back in the other way! You may always request to have bows made for HER LEFT side if desired.  To do this, please leave a note at checkout!  If for any reason you prefer to have your clip glued in, and fixed to be worn on either the right, or left side, please specify this in your notes to seller.